Open your Inventory Window.
In the bottom icon bar, touch the + (plus) sign to open the menu.
From that list, choose New Clothes.
From the new list that opens, choose New Alpha.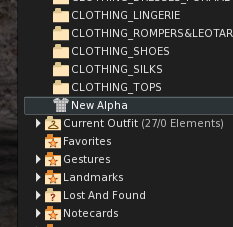 A new blank Alpha will be created in your inventory.
Wear this alpha by Adding it to your avatar. (Right Click the alpha in inventory and choose 'Add' from the menu)
Once you are wearing the Alpha, Right Click the Alpha again in the inventory and choose 'Edit' from the menu.
in the Alpha Edit window, place a checkmark (Left Click in the box) of the Eye Alpha texture box as shown above. (you may also want to check Hair Alpha to hide system hair if it shows).
Touch "Save As" in the bottom of the window, name the Alpha so that it is meaningful to you.
Remove the Alpha you just edited and wear the new Alpha you just created.